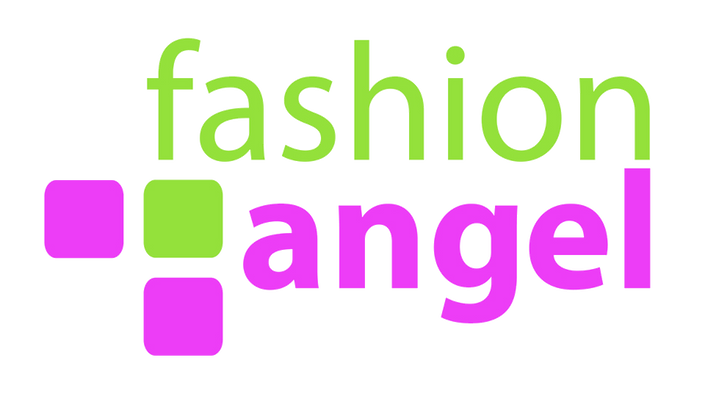 Getting it Made
A practical online course focusing on sourcing, manufacturing and production management for fashion & accessory designers and brands
One of the biggest challenges for any fashion business is getting your products made
» Have you ever been let down by your manufacturer?
» Do you find it difficult to keep control of your costs?
» Is quality control a struggle?
In this "Getting it Made" online course we address these issues and give you the skills to source and manage your production efficiency, whether you are managing production in the UK or overseas.
We have seen amazing results from people who have attended this workshop live...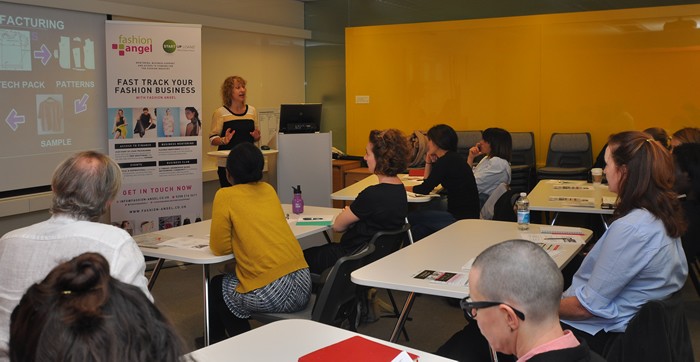 ... and now we are delivering this exclusive content online.
This course is essential if you...
★ are planning to start a new brand or have already started but don't know how to go about getting your products made

★ want to save money by gaining an understanding of sampling, production and quality control procedures

★ are ready to outsource your sampling & production
★ are experiencing problems with your current manufacturers
★ want to get the right systems in place from the start in order to avoid expensive mistakes.
Here's what they're saying about "Getting it Made"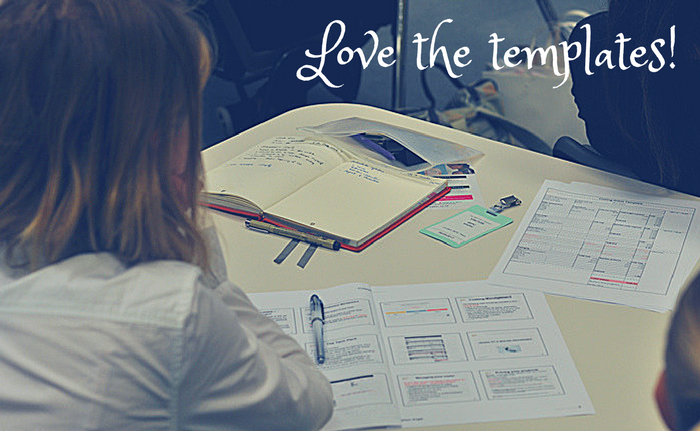 The "Getting it Made" online course from Fashion Angel provides...
✔ a valuable insight into the key stages of the production process
✔ tips on where, and how to source materials
✔ a look at how to select the right manufacturer and communicate effectively with them
✔ info on how to put simple, yet effective systems in place to keep control of your costs and monitor your production
✔ tips on how to manage quality control
✔ the benefit of Alison's extensive fashion industry experience running successful fashion brands
✔ access to the Fashion Angel Production Pack - a suite of editable templates you can use for your own brand
✔ access to the Fashion Angel Resource sheet - useful contacts and links to give you a head start
By the end of the course you'll...
❤ have a better understanding of how to get your products made
❤ feel confident to communicate clearly with your manufacturers
❤ be ready to take control of your production
Your Instructor - Alison Lewy MBE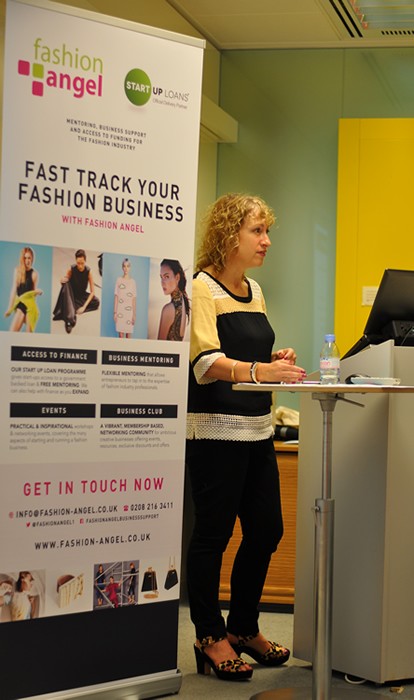 Fashion Angel Founder Alison Lewy MBE, is a fashion industry expert and author of Design Create Sell - a guide to starting and running a successful fashion business, on which the online courses are based.
Alison ran her own fashion brand for over 15 years as well as being a consultant for high profile designers such as Matthew Williamson and Preen. After 6 years as Commercial Director of the Fashion & Textile Museum in London, she set up Fashion Angel, the most well known fashion business support agency in the UK.She is a regular speaker at fashion industry events, continues to mentors fashion entrepreneurs .
In 2016 Alison was awarded an MBE for founding Fashion Angel and in recognition of her services to the fashion industry.
She was also selected as one of the inaugural Maserati 100 – a definitive list celebrating Britain's most successful business leaders actively supporting the next generation of entrepreneurs – in recognition of the continuing support she gives to 100's of fashion start-ups
Fashion Angel offers, mentoring, workshops, networking opportunities and access to funding, to emerging & established fashion brands. They are a Delivery Partner of the government backed Start Up Loan scheme, and the only one to specialise in supporting fashion start-ups.
Take a look inside "Getting it Made"...
MODULE 1 – INTRODUCTION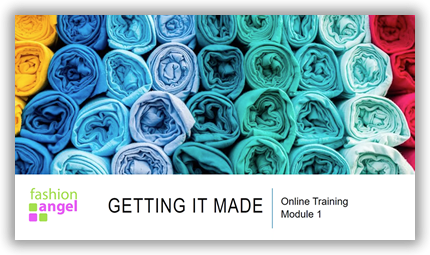 Introduction
Overview of course content
Overview of key stages in the production cycle
MODULE 2 – SOURCING & SELECTING MANUFACTURERS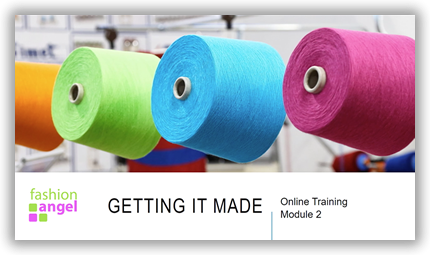 Production options available
Sourcing your raw materials
How to find potential manufacturers/agents
Choosing and evaluating your manufacturers
Producing in the UK vs Offshore –assessing which route to choose (interview)
MODULE 3 – MANAGING YOUR COSTS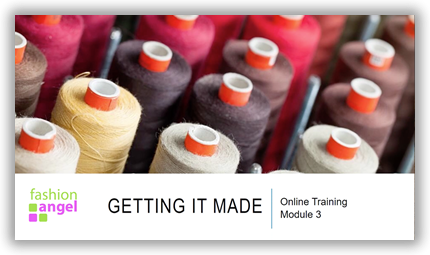 The 2 essential control documents needed to manage costs
Understanding the key roles in product development
What is a tech pack and why you need one.
How to create a tech pack
How to develop a costing sheet
How to keep control of your costs
Negotiating with suppliers
MODULE 4 - PRICING YOUR PRODUCTS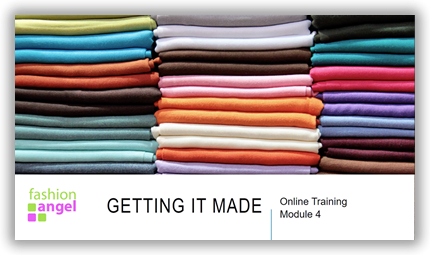 Getting the pricing right for your target customer
The difference between wholesale & retail profit margins
The difference between mark-ups and profit
How to reduce costs
MODULE 5 - FIT AND SAMPLE MANAGEMENT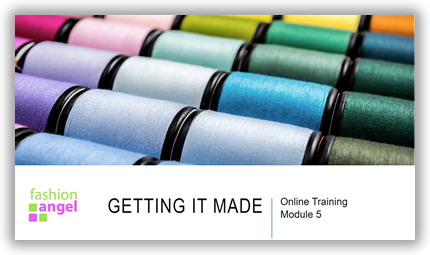 Fit procedures
The sealed sample process
Key checks when assessing samples
MODULE 6 - PRODUCTION MANAGEMENT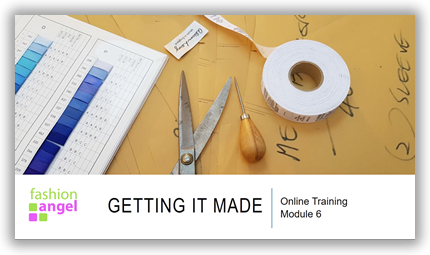 The production management cycle
Systems for effective production management
How to communicate effectively with manufacturers
Monitoring production
Quality Control procedures
Resolving disputes
MODULE 7 CRITICAL PATH MANAGEMENT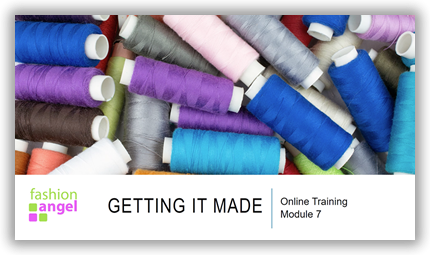 What is a critical path?
Identifying the key tasks
Setting up systems to manage keep the critical path on track
MODULE 8 - SUMMARY & NEXT STEPS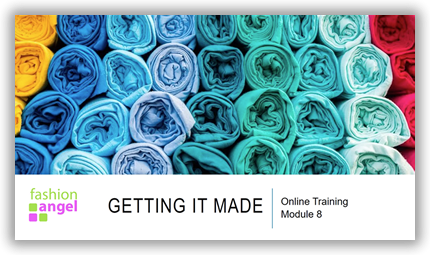 As a bonus each participant will receive the Fashion Angel Production Pack – which contains essential templates and guides that you can use for your own business AND a resource sheet with key supplier contacts.

On completion of the modules, you'll have gained the confidence to communicate effectively with your suppliers and have the knowledge and skills to control your production.



ENROL NOW to fast track your sampling & production and avoid expensive mistakes!